ExperienceChange™ Workshops
ExperienceChange™ Workshop
ExperienceChange™ is an award-winning e-learning simulation applied by leading organizations, such as Microsoft, Apple, Finning, Fortis BC, ExxonMobil, Novartis, Stemcell Technologies and many others. Designed to simulate the challenges of a real world change without the real world scars, it allows participants to receive immediate feedback on their decisions as they work to increase buy-in.
In this experiential workshop, you will be challenged to roll up your sleeves and tackle a realistic change project. More than 75% of participants' time is spent on team-based project work, leading a change process completely: from analysis to planning and implementation. Watch this short video on ExperienceChangeTM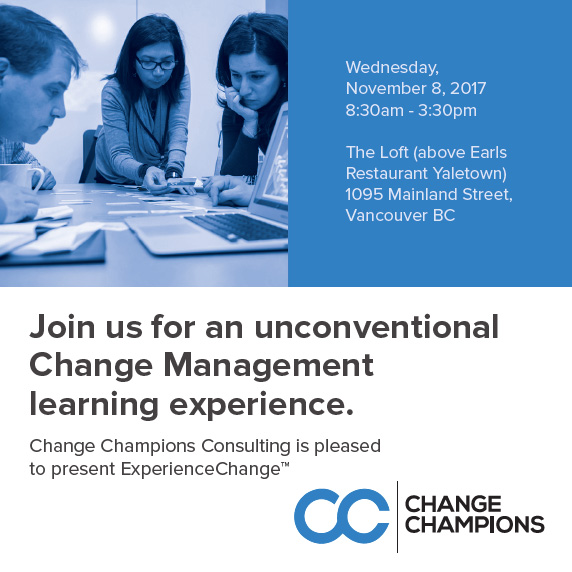 Who should take this workshop
High Potential Leaders or Senior Leaders sponsoring change initiatives
Managers at all levels of experience and change sophistication
Intact and/or cross-functional teams working on a change initiative
Project managers and/or internal change specialists
Workshop Outline
Introduction & Context setting
Stakeholders interview
Interview debrief & case analysis
Change theory overview
Building a comprehensive change plan
Implementing the change plan
Application & debrief
What's included
ExperienceChange™ Course Certification
One week of access to the online ExperienceChange™ simulation
60 minutes free follow-up (via telephone) with the course facilitator
All workshop materials, including templates and deliverables to manage your change
Food and beverage
Workshop fee
$409 (EARLY BIRD) | $499 (REGULAR)
REQUIREMENTS
Bring a laptop
Please arrive 20 minutes early for registration
Check out this workshop on Eventbrite!
"Very valuable two days! I feel better prepared to lead changes and transform my organization."
- Suzie Smibert, Director and Chief Information Security Officer, Finning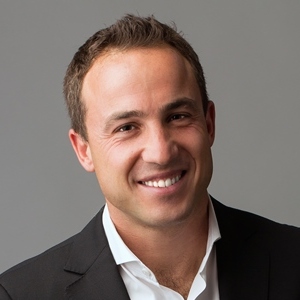 AGUSTIN DEL VENTO is the founder and director of Change Champions Consulting, a change management consulting, training, and coaching firm based in Vancouver, Canada. As an ExperienceChange™ and Prosci® certified organizational change management professional, Agustin has more than ten years of experience in the field of change management. Throughout his career, Agustin has delivered change programs and learning experiences for organizations in several countries including Canada, US, Germany, Singapore, Argentina, Chile, Venezuela, and Spain. Agustin's clients include organizations in diverse sectors such as Finning, BHP Billiton, Fortis BC, Goldcorp, BC Hydro, Suncor, Teck Resources Limited, Yamana Gold, STEMCELL Technologies, and Vancity. Prior to founding Change Champions Consulting, Agustin worked with two of the world's top consulting firms (Accenture and Deloitte) and, as a certified coach by the International Coaching Federation, he surpassed 500 coaching hours supporting leaders' growth. Agustin holds a Master of Science in Psychology from the University of Victoria, Canada, where he specialized in face to face communication.