Tips to choosing Change Management training programs to best suit your needs
More and more, organizations are realizing the importance of applying change management to the initiatives they face. Here are three questions to help you as you research change management training programs to find the one that is best suited to your needs.
Who attends my change management training program?
A "one size fits all" approach to training is usually a waste of your money and time. Instead look for a recognized change management certification that provides both a practical framework to navigate change and a set of tools to structure the work. A note of caution: Be wary of long (3 day courses) that target executives.
Executives tend to not have enough time to use the contents of such a course. Instead, look for shorter and impactful training options with pre and post training work/support.
What will be the most effective learning vehicle for your audience?
Different people have different learning styles. For some reason, most training offerings end up relying on PowerPoint slides. This "traditional" approach (often known as "death by PowerPoint") is less effective. Look for innovative ways to develop knowledge and skills. For instance, case studies and e-simulations can be a powerful way to create a stimulating, effective and engaging learning environment.
How will you measure the return on investment of the training?
Ask yourself, how will I know 6 months from now that the training delivered meaningful results? We've seen far too many cases where business leaders are taken away from their work to attend costly training courses only to receive a shiny manual that they will never use again. Talk to the change training companies about ways to measure the return on your investment and ensure the learning makes a difference in your organization.
About ExperienceChange™
ExperienceChange™ is an award winning one-day e-learning simulation that enables participants to explore and quickly experience change management theory in action. The experience simulates the challenges of real world change without real world scars.
This allows participants to receive immediate feedback on their decisions as they work to increase buy-in. ExperienceChange™ takes a different approach to learning where participants "learn by doing" and is energizing way to build teams and learn how to manage change.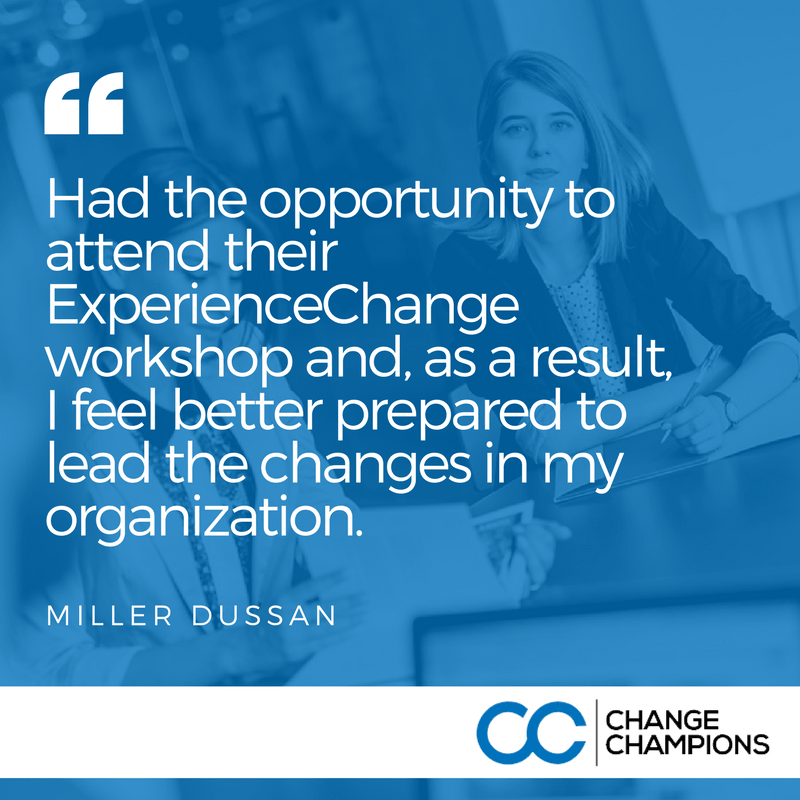 Do you have further questions regarding change management training?  Contact a change management consultant in Vancouver, BC at Change Champions.